LEOSYS has been focusing on collaborative technology, integration, and management services for over 30 years. We are dedicated to assisting enterprise clients in planning, building, technical support, IT operations management, optimizing information flow, and enhancing customer industrial added value through innovative Information and Communications Technology (ICT) infrastructure. We utilize professional services such as 5G, AI, network, integrated communication, information security, data center, finance computerization, automation, as well as value-added services such as enterprise resource planning consulting, ICT consulting, IT outsourcing services, and education training. We specialize in setting up customer service care centers tailored to different clients' needs, providing tailor-made solutions that meet the integration and application requirements of systems and various information equipment and communication technologies in the upstream, middle, and downstream of the industry. We help clients focus on accelerating their industry development.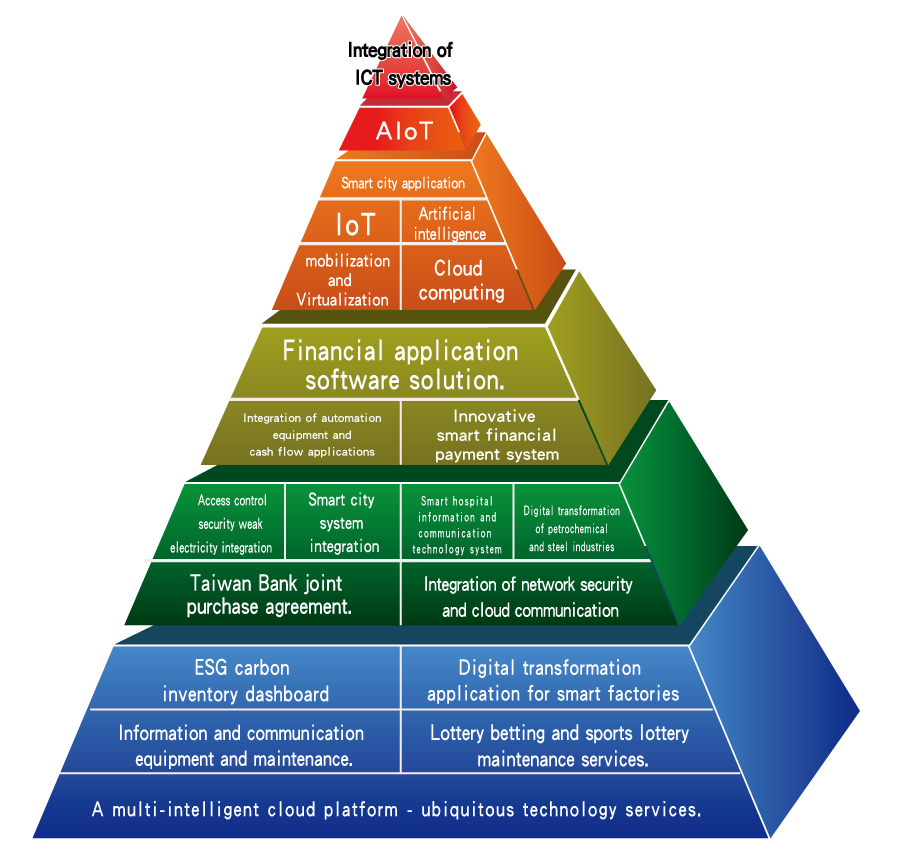 The First Business Unit provides system integration for information and communication infrastructure, assisting corporate clients in planning, building, technical support, and IT operations management required for industry-specific information integration and optimization of information flow to increase clients' industry added value and innovative business models.
The First Business Unit offers consultation services for client product sales and post-sales services, including product maintenance and warranty. Services range from client device sales and IT infrastructure in green data centers, to basic network planning and equipment deployment, information security equipment, data centers, storage equipment, and data backup management systems, among others. The business unit has formed strategic alliances with major global suppliers such as Acer, ASUS, Cisco, Dell EMC, D-Link, HPE, HPI, Juniper, Lenovo, Microsoft, Oracle, and VMware, primarily in the Greater China region.
The main customer groups include government agencies and public utilities, telecommunications companies, manufacturing, and healthcare industries.

The second business unit mainly provides financial professional system integration development services, financial automation equipment applications, and after-sales services to optimize banking business needs, shorten customer service processes, and improve service efficiency and banking competitiveness.
The second business unit cooperates with banking business needs to carry out project development. The existing solutions include: image and process control system, paperless entry management system for the whole bank, credit card review process management system, online review and instant card issuing system, bank audit operation management system, bonus point redemption system and automation equipment value-added integration services.
The second business unit acts as an agent for sales of Japanese products: GLORY coin circulation machines and a full range of banknote processing machines, OKI cash circulation ATMs and teller cash dispensers, JCM coin circulation machines, and Fujitsu palm vein authentication devices.
South Korean products include Hyosung TNS's full range of ATMs and Synkey automatic passbook printers.
The UK's KAL automation equipment WOSA platform.
The second business unit also independently develops products such as bank intelligent payment machines, self-service card issuing machines, medical self-payment machines, and customized value-added equipment, etc.

The third business unit has many years of practical experience in AI and provides AI application services in various fields such as intelligent manufacturing, intelligent factories, and intelligent healthcare. They are proficient in equipment predictive maintenance, product defect detection, process optimization, production efficiency improvement, and energy saving, providing complete and effective AI solutions. They are committed to further integrating 5G and AI application services, from 5G network planning and construction, integration of 5G networks with existing enterprise networks, to the introduction of vertical intelligent application services combining 5G and AI. They utilize 5G features to maximize the benefits of AI and help companies innovate their business models and embark on digital transformation towards 5G and AI.
The third business unit specializes in information network engineering planning, construction, and maintenance services, providing integration and optimization of information and communication infrastructure systems to help companies optimize their information flow and increase industry added value. Their main customers include large hospitals, various types of factories, and enterprises. The third business unit's service location in mainland China, Yangzhong Technology, is located in Shanghai and provides various solutions such as network construction, weak current system integration, automated intelligent factories, and storage equipment, providing professional system integration services for customers in Greater China, including Taiwan, Hong Kong, and Macao.
The Innovation and Development Center provides network integration marketing services, cloud application system development and industry application solution development. It is an authorized agent of Google Taiwan and offers Google AdWords global network keyword advertising marketing services. Through professional internet marketing services, customers can increase their brand awareness, website traffic, and order processing capabilities. Sales and service personnel of this department must pass various professional advertising certifications and continue to research and introduce digital marketing technology and services to meet the needs of different users.
Innovation & Development Center undertakes various large-scale government projects in collaboration with clients from different industries. With extensive industry execution experience, it assists export industries in "standing firm in Taiwan and marketing to the world".
In recent years, the department has developed martech systems for research and marketing, and has created social marketing automation and AI-based targeted marketing platforms to help customers establish their own marketing customer databases. It provides targeted promotion through various marketing tools such as SMS/Line/FB/E-Mail, which significantly reduces social marketing costs. The tools include customer profiling, behavior extraction, feature recognition, and other advanced features, and are integrated with AI and customer big data deep analysis. It also integrates multiple CRM and customer data platforms (Customer Data Platform).

The fifth business unit provides automation control and security system integration services required for smart city applications with the most professional and integrated capabilities. These include central monitoring systems, industrial automation solutions, security system solutions, network information system solutions, and various weak current engineering packages (green data center HVAC, network setup, PBX intercom integration, audiovisual systems, etc.). The fifth business unit strategically allies with international giants to integrate central systems and weak current systems, property management systems, and to sell factory automation equipment, making it an important partner with significant achievements in large-scale engineering projects for smart city applications.
The fifth business unit's main customer base is primarily composed of large manufacturing industry clients.

The sixth business unit mainly provides services for terminal betting equipment and is a professional maintenance provider for the terminal equipment of the "3rd Public Welfare Lottery" and "4th Public Welfare Lottery" dealers. It is also the maintenance provider for the terminal betting machines of the "4th Public Welfare Lottery" and "2nd Sports Lottery" dealers, and is the only exclusive service provider for terminal betting equipment in Taiwan.
The sixth business unit has professional service personnel to serve the betting machine service system in areas such as Taipei, Penghu, Kinmen, and Matsu. Due to the particularity and professionalism of the industry service, this unit has many years of professional maintenance experience and can complete repairs within two hours, meeting the service needs of computer lottery dealers. The unit fully embodies the concept of "efficiency and technical cultivation to the highest level" and provides high-quality services that are an industry benchmark for others to follow.

The seventh business unit focuses on system integration, and is customer-oriented, providing a full range of information solutions tailored to meet customer needs, including information integration planning, implementation, technical support, and IT operations and maintenance management, as well as assisting customers in completing digital transformation and enhancing overall competitiveness.
In addition to the sales and distribution of client devices, the unit also provides services to assist customers in designing and constructing the best information systems, including information consulting services, infrastructure setup for information equipment (servers, storage, virtualization, etc.), network security construction management and data security control (core switches, firewalls, VMware NSX, security, etc.), disaster recovery and remote backup, as well as software and hardware maintenance and technical support.
The main customer groups include government departments and public utilities from Taichung to the south, Yunlin, Chiayi, Tainan, Kaohsiung, Taitung, Penghu, as well as telecommunication service providers, manufacturing and medical industries across Taiwan.

To ensure the important interface and service quality of our customer service, our company has developed a customer-exclusive service system, CSSV3. The main spirit of the system architecture comes from the information service management standard. By using and operating our company's customer service system, the internal service process effectively controls and monitors each customer's required service cases. The service strategy, service design, service operation, and service transfer are optimized in the customer-exclusive service system (LEO Customer Service System V3) in each functional process, using layered service monitoring to complete different information services required by customers. The system management function is executed through the customer care center service platform and process mechanism, and based on the service data provided by the system to analyze how to continuously achieve the goal of improving and meeting all different needs of customers.

After LEOSYS was approved for the Ministry of Economic Affairs' six initiatives to encourage the establishment of domestic R&D centers in Taiwan on October 20th, 2009, our company utilized a massive amount of data and an analysis infrastructure to gain insights that take our enterprise messaging, IoT applications, video transmission, and social media marketing to the next level.
Traditional infrastructure was not designed to handle the workload of large amounts of data, making it difficult to transform information into analytical insights for decision-making, predictive analysis, or real-time reporting.
In our R&D center, we identify how the company's efficiency, quality, or safety issues affect business outcomes. To encourage customer engagement and optimize operations while fostering innovation, we need to strengthen access to and availability of enterprise data. LEOSYS provides technology to assist customers in expanding, accelerating, and storing vast amounts of data and analytical applications from existing infrastructure, which we correct as needed.

The Mobile Intelligence Project Department is dedicated to the integration of mobile learning and smart classrooms in the national education system. It is oriented towards the needs of teaching on-site and interaction between teachers and students. It provides comprehensive mobile, smart, and teaching integration services, including information-related software and hardware, such as mobile devices, device management systems, touch screens, digital teaching content, and teaching platforms, providing integration planning, construction, technical support, and maintenance management. It aims to help schools and educational units achieve the integration of information into teaching, self-directed learning, and smooth teacher-student interaction, and to enhance the overall learning energy of the teaching environment and teachers and students.
In addition to information software and hardware sales and integration, the training team established in 2022 also provides assistance for school education training and workshop planning. After the equipment is installed in the teaching field, teachers in various teaching fields can use it skillfully in practical applications.
The main clients are the Ministry of Education, county and city education bureaus, county and city network centers, junior high schools, high schools, vocational high schools, and colleges and universities.